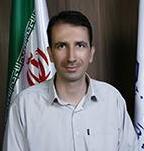 Main Menu
K. N. Toosi University
mehdi zamanian
Research Activities
:
Director of University Information Systems Project Design, 2005.
Collaboration in Web Pages Classification Project, 2009.
Collaboration in Linear Control Systems Lab. Equipments and Manuals Design and Implementation, 2004.
Preparation of Computer Lab., Linear Control Systems Lab. Manuals..
Publication of 5 Conference Papers and 3 Journal Papers.
Current Research Interests
:
Time Series, Modeling and Forecasting, Computer Systems, Internet Engineering.