Barahman Movassagh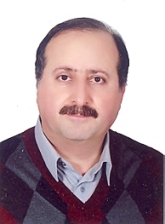 Professor of Organic Chemistry
Department of Organic Chemistry
K. N. Toosi University of Technology
P.O. Box: 16315-1618 Tehran, Iran
Education :
1) B. Sc. in Chemistry (1980), Razi University, Kermanshah, Iran.
2)Ph. D. in Organic Chemistry (1983), University of Birmingham,
Birmingham, England; working with Prof. William Brian Jennings;
title of Ph.D. thesis:
An NMR investigation of the structure and dynamic process
of some organo-nitrogen compounds.
Experience :
1) Honorary Research Fellow ( 20-2-84 to 31-5-84 ), University of Birmingham, England.
2) Postdoctoral Research Associate (1988-90), University of Kansas, Lawrence, Kansas , U.S.A.
3) Assistant Prof. of Org. Chem. (1984-88, and 1990-99), Razi University, Kermanshah, Iran;
Associate Prof. of Org. Chem. (1999- Feb. 2001) , Razi University.
4) Teaching different B.Sc. and M.Sc. courses in chemistry, including: Org. Chem. 1, 2 & 3; Phy. Org.
Chem.; Org. Spectroscopy; Photochem.; Adv. Org. Chem.; Heterocyclic Chem.; Adv. Spec.; Org.
Synthesis.
5) Graduating 37 M.Sc. graduate students since 1997 and 2 Ph. D. students; currently having 2 M.Sc.
and 5 Ph.D. students.
6) Finished 5 applied and industrial projects: a) Grinding aids in cements and their role in reduction of
energy consumption of iranian cement factories; b) Extraction of lanolin from wool grease; c)
Economic bleaching of persian sheep wool; d) Production of several types of black toners in pilot
scale (a national project supported by the government); e) Production of Amantadine drug on
pilot scale (supported by ministry of industries & Mining)
7) a) Written two textbooks in Persian: " Spectroscopy : FT-NMR , ESR, and Raman " & " Physical
Organic Chemistry" ; b)Translating 4 chemistry textbooks from English into Persian ("Introduction to
Spectroscopy" 1st. & 2nd. Edition, By: Pavia, Lampman & Kriz; "Organic Synthesis", By: S.
Warren; "Organic Experiments", By: Fieser). c) Written a Chapter (Chapter 3) titled: "Nucleophilic
Selenium: Nucleophilic Substitution" , in an E-book titled: "Organoselenium Chemistry: Between
Synthesis and Biochemistry",Editor: Claudio Santi, Ch. 2 pp 61-93 (2014) by Bentham Science Publishing Co.